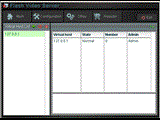 عدد مرات التحميل : 576
نظام التشغيل

WinXP,Windows 7

الحجم 6.92MB
الاصدار 1.1.2
تاريخ الاصدار :

13-11-2008

التغييرات : نسخة جديدة
اخر تحديث في

13-11-2008
شرح و تقييم
Moyea Flash Video Server
Moyea Flash Video Server helps stream Flash videos between the server and clients. With this server, end users are able to publish, record Flash videos and audios, as well as deliver live videos to the server to share with other users. As long as a Flash player is installed, the administrators can manage the virtual host and users with the Flash media management consoles, and authorized users are able to play, record, or publish live videos.
---
---
الوصف الكامل :
Moyea Flash Video Server is a powerful Flash media platform that provides wonderful services of live and on-demand video streaming and recording. One of its outstanding features is that it provides virtual host and user management function. What's more, administrators are also able to specify power to certain IP addresses, or domain names as well as users. So that only authorized users in the specified IP addresses or domain names are able to access the server for publishing, playing, recording, or live video delivering.
The possible owner of this server may be service providers or company users. For the service providers, he can create and name virtual hosts for web service providers, so that they can provide web services like video playing, publishing, recording, or live video delivering for the end users. This server also provide wonderful IP address and domain name authorization with which administrators are able to specify the access permission for certain IP addresses and domain names. So when company users are having a live video conference with this server, only authorized users in certain IP addresses or domain names are able to access.
In a word, Flash Video Server is one of the best Flash media servers that provide the most wonderful Server-side media communication and Flash media server application and bring you the efficient and convenient management functions.
---