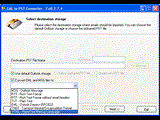 عدد مرات التحميل : 123
نظام التشغيل

WinXP,Windows 7

الحجم 2.77MB
الاصدار 4.1.2
تاريخ الاصدار :

1-1-2010

التغييرات : تحتوي هذه النسخة تعديلات كثيرة تختلف عن النسخة السابقة
اخر تحديث في

1-1-2010
شرح و تقييم
EML to PST Converter
Transferring personal data to a new computer? Tired of your current mail program? EML to PST Converter is the leading solution for converting your messages into the format you need, complete with HTML formatting, encodings and attachments. If you are moving messages from Thunderbird, Eudora, The Bat, Outlook Express, Entourage or another program into Microsoft Outlook, EML to PST Converter is the quickest, easiest solution!
متطلبات البرنامج :
MS Outlook of supported version or MAPI installation
---
---
الوصف الكامل :
Use EML to PST Converter and never be without your e-mail messages, even if transferring between mail programs or computers! Do you even know what format your e-mail program uses to store messages? Have you wondered how to move to a new computer or new mail program, without losing the years of valuable information in your e-mails? The Windows-based wizard takes out all of the guesswork and Internet searching, performing all of the necessary conversions itself and making your e-mails ready-to-use.
Migrating messages to Microsoft Outlook from other mail clients (Thunderbird, Eudora, The Bat, Outlook Express, Entourage and others) or other operating systems doesn`t have to be hard. Just point the wizard at where you want your files to go, and after a quick conversion your messages will automatically appear in Microsoft Outlook or the location of your choice!
EML to PST Converter will keep your e-mails safe and accessible, using its proprietary engine to process your messages with blinding speed. The transfer preserves HTML formatting, attachments, special symbols, text encodings, etc., so everything will look just like you left it. Even better, you won`t have to reorganize your messages, because the converter recognizes the folders originally used to store your messages and carries them over during the import!
The program can save you hours of headache and costs less than $20 for an individual license. You can be confident in your purchase: download a trial version of EML to PST Converter and see how it can make your life easier!
Consolidate and save time when transferring your e-mails: buy EML to PST Converter today!
---